RUN BODY
AN ELEGANT CHAIR WITH ARMREST
The Run family is unique in the LEHM concept as it does not come with any features. This is because the chassis and armrests are integrated, instead of as on other LEHM chairs where a possible armrest is attached to the seat. Run Body is developed to fit in environments where a solid frame is appreciated, where no functions are necessary and hygiene is extra important. The chair's armrests allow it to be hung on a table, which makes it easier for vacuuming or the like. However, the legs offer choices as they are available in black or stainless steel. The seat can also be adapted as needed, there is a choice between a seat shell in oak, walnut or black oak; entirely in wood, with upholstered seat or fully upholstered – of course it is available in either fabric or leather. The foam used in Run Body is fire-retardant CMHR foam.
Stol med armstöd
Width: 60 cm
Height: 79 cm
Depth: 54 cm
Seat height: 46 cm
Dimensions armrest: 68 cm
Frame:
Frame in black steel
Upholstery:Cold foam

Options:
leg inserts (set)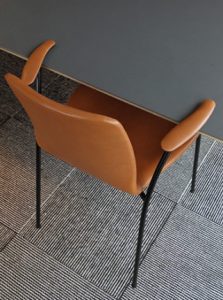 RUN - ARMREST
The LEHM collection offers an impressive number of variations through the choices among different design options, including armrests. The Run series has a special armrest that is integrated with the chassis. This allows the chair to be hung on a surface and free up the floor to achieve an extra high standard of hygiene.
Henrik Lehm is a new Danish designer who is on his way to international recognition for modern furniture design. H. Lehm was educated in 1994 as a civil engineer in architecture and design at Aalborg University. In 2003, this education was supplemented with studies in international branding and marketing.
In Henrik Lehm's work, the Danish design tradition continues in a well-balanced combination with international and industrial design. One of his specialties is design of modern chairs with excellent seating comfort, some of which are already recognized as upcoming classics.