EPIC EXTENDABLE TABLE
WITH SEVERAL DIFFERENT SIZES OF TABLE TOPS
An elegant table that can be used as a dining table in a restaurant or as a conference table, due to the tables option of adding extension tops, creating an even longer table. Note that the extension top can be selected with a material other than the table top.
The table is 73 cm high; length and width depend on the choice of table top. The table tops are available as rectangular or in an oval shape. The table top makes the design possibilities great, with several different colors in veneer, laminate or linoleum. The standard legs are in black metal, but are also available in stainless steel.


Extendable table 2 parts:
Width: 90 cm
Length: 200, 240 cm
Width: 100 cm
Längd: 200, 240 cm


Table tops:
(max. 2 extra table tops)
90 x 50 cm
100 x 50 cm

Extendable table ellipse 2-parts:
200 x 110 – 80
240 x 120 – 85



Additional table tops:
(max. 2 extra tilläggsskivor)
110 x 50 cm
120 x 50 cm
Height incl. table top:
73 cm
Choice of underframe:
Black metal
Stainless steel
Choice of table top:
Oak
Black oak
Walnut
Linoleum (6 colors)
Laminate (4 colors)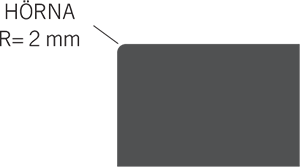 Henrik Lehm is a new Danish designer who is on his way to international recognition for modern furniture design. H. Lehm was educated in 1994 as a civil engineer in architecture and design at Aalborg University. In 2003, this education was supplemented with studies in international branding and marketing.
I Henrik Lehms verk fortsätter den danska designtraditionen i en välbalanserad kombination med internationell och industriell design. En av hans specialiteter är design av moderna stolar med utmärkt sittkomfort, av vilka några redan erkänns som kommande klassiker.