SPIKE BAR BODY
A BARSTOOL IN ELEGANT DESIGN
A key element and main theme in the LEHM concept is flexibility. Spike Bar Body provides the opportunity for flexibility with several different customizable elements; armrests, seat and chassis. For Spike Bar Body, there are 2 different armrests in 2 different colors, black or stainless metal. The seat can be ordered in 3 different designs – oak, walnut or black oak; completely in wood, with upholstered seat or fully upholstered.The base always has black metal as a base, but can also be obtained with thin sleeves in wood over, for a slightly warmer look. These are also available in oak, walnut or black oak.
Spike Bar Body, comes like Spike Body, also with the possibility of function, both return mechanism and spinning mechanism. The Spike bar series' chairs come in two heights, 104 and 114 cm respectively. The foam used in Spike Bar Body is fire retardant CMHR foam.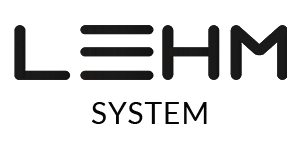 THE FOLLOWING FUNCTIONS ARE COMPATIBLE WITH THE CHAIR: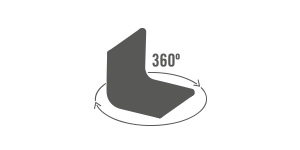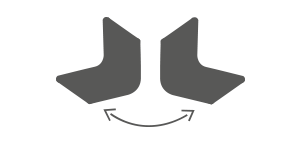 Bar chair low
Width: 47 cm
Height: 99 cm
Depth: 54 cm
Seat height: 66 cm
Bar chair low with armrest 
Width: 60 cm
Height: 99 cm
Depth: 54 cm
Seat height: 66 cm
Dimensions for armrest: 88 cm
Bar chair high:
Width: 47 cm
Height: 109 cm
Depth: 54 cm
Seat height: 76 cm
Bar chair high with armrest 
Width: 60 cm
Height: 109 cm
Depth: 54 cm
Seating height 76 cm
Dimension for armrest: 98 cm
Legs:
Black metal with possibility of coating in oak, black ock or walnut
Upholstery: Cold foam 

Options:
Leather lacing on armrest, set 2 pcs.
Sewing in the back and seat
Legs and ring in stainless steel
Wooden legs in oak, walnut and black oak
Leg inserts 4 Pcs.
Armrest:
Armrest frame full, black metal
Armrest frame full, stainless steel
Armrest R/L, black metal
Armrest R/L. stainless steel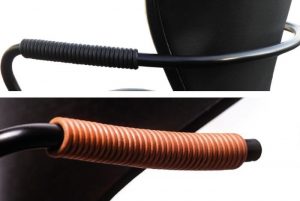 BODY - ARMREST
The LEHM collection offers an impressive number of variations through the choices among different design options, including armrests. Slim is adapted so that all armrests fit, dressed, half or frame armrests. Depending on which model is chosen, the chair's appearance will be different, but always maintains its comfort.
The different models are suitable for the home, the cafeteria , he meeting rooms, the office, the waiting room, the library and much more.
Henrik Lehm is a new Danish designer who is on his way to international recognition for modern furniture design. H. Lehm was educated in 1994 as a civil engineer in architecture and design at Aalborg University. In 2003, this education was supplemented with studies in international branding and marketing.
In Henrik Lehm's work, the Danish design tradition continues in a well-balanced combination with international and industrial design. One of his specialties is design of modern chairs with excellent seating comfort, some of which are already recognized as upcoming classics.